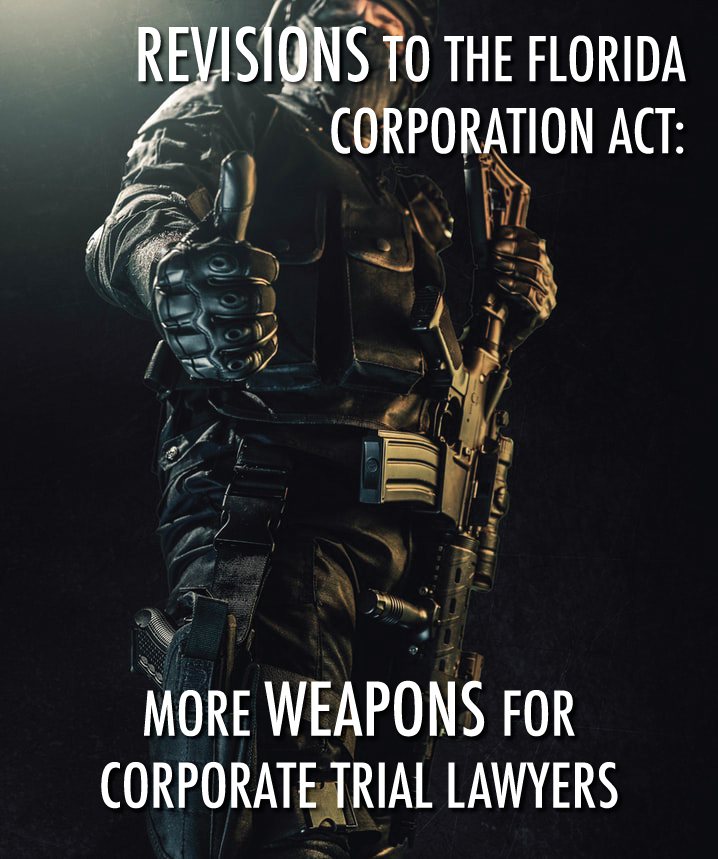 2020 Revisions to the Florida Corporation Act: More Weapons for Corporate Trial Lawyers
By: Tucker H. Byrd, Esq., Byrd Campbell, P.A.

Corporate trial lawyers who practice their craft in the courtroom—particularly those not inclined to pore over legislative updates—may have overlooked some of the recent important changes to the Florida Business Corporation Act ("Act") effective January 2, 2020, § 607.0101, et seq., F.S., which could have a big impact on their cases. The changes were principally made to harmonize the rules relating to corporations and limited liability companies and were largely derived from the Model Corporation Act.

The changes should interest not just "business" lawyers advising corporate clients on the rules of governance. Laced within the numerous technical corrections, clarifications, and modifications, the Legislature included numerous changes specifically applicable to dispute resolution, the very tools—and indeed weapons—that corporate "trial" lawyers absolutely need to know and have at their disposal the next time they wade into a "corporate boardroom" fight.















Among the more important revisions, the following changes should be reviewed and considered:

1. Exclusive Forum Selection: The articles of incorporation or bylaws may include exclusive forum provisions in Florida, provided the courts of this state have personal and subject matter jurisdiction, and neither can prohibit the bringing of an action in this state. § 607.0208, F.S.

2. Fee Shifting Provisions: Neither the articles of incorporation nor bylaws may impose attorney's fees or expenses in connection with an internal corporate claim; however, such may be imposed if permitted under a shareholders' agreement adopted by unanimous shareholder approval. § 607.0732, F.S.

3. Proxy Fights – Expenses: Bylaws may require the inclusion of individuals nominated by shareholders for election as directors and require the reimbursement by the corporation of proxy expenses. § 607.0206, F.S.

4. Prosecution of Actions by Domestic Corporations: Domestic corporations cannot maintain actions in this state unless they maintain a registered agent and registered office in the state. § 607.0501(6), F.S.

5. Prosecution of Actions by Foreign Corporations: Foreign corporations qualified to do business in Florida may not prosecute actions until they have obtained a certificate of authority; however, they may defend against actions. § 607.1502, F.S.

6. Service of Process: The Act distinguishes between service of process on a corporation and making a demand on a corporation and prescribes a "batting order" of who may be served on the corporation's behalf. § 607.0504, F.S.

7. Shareholder Meetings: The Act expands the maximum period between officially sanctioned shareholder meetings (from 13 to 15 months) and confirms that a court may order meetings to be held if the corporation fails to act. § 607.0703(1)(a), F.S.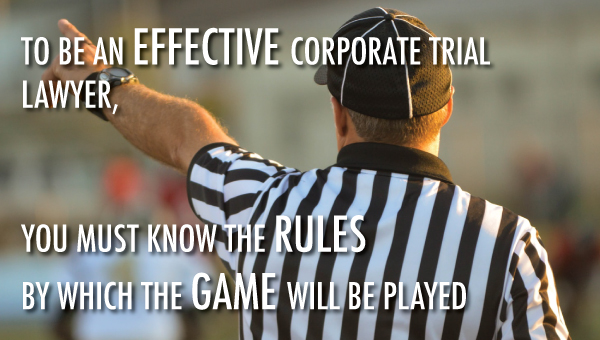 8. Derivative Actions: The Act significantly changed or clarified rules pertaining to derivative actions. First, it confirmed that a party may not bring a derivative action unless they were a shareholder when the transaction complained of occurred or became a shareholder by operation of law through a transfer from someone who was a qualified shareholder. Second, the Act now allows (indeed confirms judicial law) that actions could be brought without making a demand on the corporation if such demand would be futile. § 607.0742, F.S. Perhaps most importantly, the Act clarified somewhat what constitutes a "direct" action, as opposed to a "derivative" action, as one involving: "(a) An actual or threatened injury that is not solely the result of an injury suffered or threatened to be suffered by the corporation; or (b) an actual or threatened injury resulting from a violation of a separate statutory or contractual duty owed by the alleged wrongdoer to the shareholder, even if the injury is in whole or in part the same as the injury suffered or threatened to be suffered by the corporation." § 607.0750, F.S.

9. Appointment of Receiver/Provisional Director: The Act added two new provisions which allow provisional remedies outside the context of a judicial dissolution. A receiver or custodian may be appointed in some circumstances, and a "provisional director" may be appointed to manage through a shareholder "deadlock." §§ 607.607.0748-49, F.S.

10. Business Judgment Rule – Director Fiduciary Duties: The Act provides a comprehensive framework for applying the "business judgment rule." This includes a narrowing of the "prudent person" rule to require a "reasonable belief" for the actions taken. § 607.083, F.S.

11. Business Judgment Rule – Officer Fiduciary Duties: The Act now incorporates a "business judgment rule" for officers, like that applicable to directors. § 607.08411, F.S.

12. Indemnification – Advancement of Expenses: The Act specifies and expands the corporation's ability to advance fees and expenses to directors who are parties to a proceeding. § 607.0853, F.S.

13. Appraisal Rights: The Act makes clear that determining "fair value" in an appraisal exercise must not discount for lack of marketability or minority status. It further affords appraisal rights even to nonvoting shareholders. Finally, actions to enforce appraisal rights must be brought in the "applicable county," generally the location of the principal place of business. §§ 607.1301-30, F.S.

14. Judicial Dissolution: The Act expands the grounds for judicial dissolution to include corporations with more than 35 shareholders (although still excluding public companies) and now recognizes that a deadlock may be resolved through a dissolution to avoid irreparable harm and if the affairs of the corporation can no longer be conducted to the advantage of the shareholders generally because of the deadlock. Finally, all shareholders must be notified that the shareholders are entitled to avoid dissolution by electing to purchase a petitioner's shares under certain circumstances. §§ 607.1430-31, F.S.

To be an effective corporate trial lawyer, you must know the rules by which the game will be played. These 2020 rule changes in the Act could affect greatly how you handle your case, and now you know.
For Consultation Contact:
info@ByrdCampbell.com