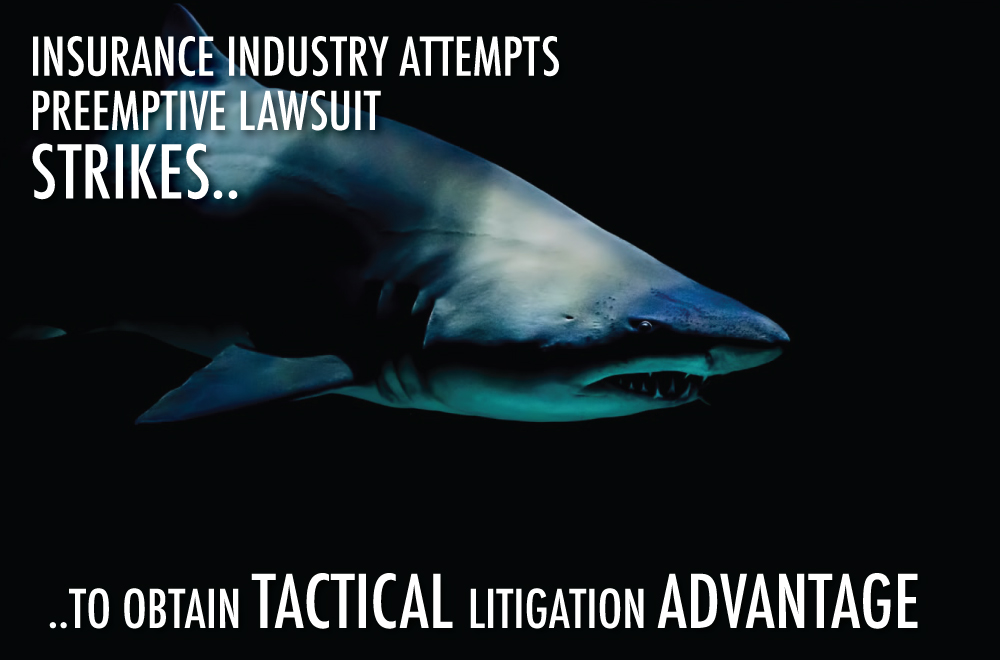 The Empire Strikes Back: Insurance Industry Attempts Preemptive Lawsuit Strikes to Obtain Tactical Litigation Advantage
By: Tucker H. Byrd, Esq., Byrd Campbell, P.A.

Facing a deluge of claims and lawsuits by business owners devastated by COVID-19 to hold the insurance industry accountable for business interruption insurance coverage, the industry has adopted a preemptive strike lawsuit strategy in hopes of gaining a tactical litigation advantage. The objective appears simple: snuff out claims, intimidate insureds, and break the spirits of any would-be claimants. Classic military strategy endorses this "strike before struck" approach. General George Washington famously said, "[M]ake them believe, that offensive operations, often times, is the surest, if not the only (in some cases) means of defence." Sun Tzu, in The Art of War, likewise taught, "[T]the only real defense is [a good offense]." Even famed Florida Gator Football Coach, Steve Spurrier, once drawled, "The guy who said defense wins championships hasn't watched us a lot."

Typically, insurance companies have adopted a deny first, then defend approach, hoping to exhaust the insureds by requiring them to go through a series of post-loss steps to submit, prove up, and pursue a claim. The passive aggressive approach works wonders—in most circumstances—unless the insured possesses an extraordinary patience and persistence, armed with capable legal counsel. The public and political outcry over the unprecedented business losses, all taking dead aim on the insurance industry, however, appears to have shaken the insurance industry and driven it to take drastic measures in its defense.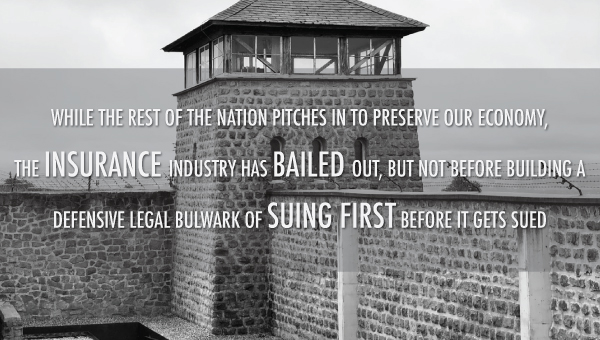 While the rest of the nation pitches in to preserve our economy, the insurance industry has bailed out, but not before building a defensive legal bulwark of suing first before it gets sued. "But for what?" you might say. The insurance companies are suing insureds to have a court declare that there is no coverage for business interruption, choosing to prove the negative of the absence of coverage, rather than making the insured prove coverage exists. This would be akin to a debtor suing a creditor to have a court declare a debt is not owed; an approach unusual, for sure, but not altogether illegal.
The recent case filed by Travelers Casualty Insurance Co. of America against the law firm of Geragos & Geragos APC in California federal court, saying it has no duty to cover the law firm for business losses during the COVID-19 pandemic because the virus has not caused "physical loss or damage" to the firm's offices, exemplifies this preemptive lawsuit strategy. Because Geragos & Geragos had launched a series of complaints in Los Angeles Superior Court accusing Travelers of wrongfully denying coverage to it and several other California businesses, it appears the carrier targeted Geragos & Geragos. In response, the law firm summed up the situation:

Travelers Insurance, after cashing our premium checks for years, decided yesterday that instead of paying our business interruption claim that they would hire a large law firm to sue us in federal court instead . . . .Apparently, their way of adapting to a pandemic is filing lawsuits against their own insured. We welcome the opportunity to fight on behalf of small business against rank corporate greed and their legal enablers.


Carriers like Travelers will sue insureds first in hopes of gaining several perceived tactical litigation advantages—a virtual "battle for legal field position." First, they typically file their lawsuits in federal courts, presumably believing [wrongly, we submit] that federal judges will be less sensitive to the sufferings of the average businessperson. Second, they usually seek specific jurisdictions with a demonstrated leaning toward insurers. Third, they hope that insureds may not have the stomach to be sued and will lay down in the fight [again wrongly, we submit]. And if prospective plaintiffs get wind that they may be sued next, even more the effect. Finally, they likely believe that the federal cases will move more slowly, thus fatiguing even the stoutest of insureds. The last place an insurance company wants to be would be in a state courthouse, in a case proceeding pell mell to trial, where it will face a jury of everyday folks who have suffered the ignominy of an insurance claim denial.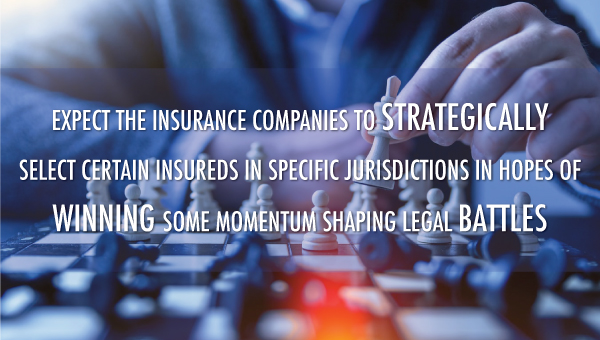 Will insurance companies sue everyone who makes a claim or deigns to demand coverage? That is unlikely. But expect the insurance companies to strategically select certain insureds in specific jurisdictions in hopes of winning some momentum shaping legal battles. No doubt, this all shapes up to be an epic legal conflict.

History gives us many examples of defense by suppression. In 1774, after the Boston Tea Party uprising, Britain's Parliament passed the "Intolerable Acts," enacted to suppress the colonists who defied British rule. It then dispatched General Thomas Gage to occupy Boston with four regiments of soldiers in a display of overwhelming force to quell the masses with ham-handed military rule. The aggressiveness had the opposite effect, however, and ignited a flame of patriotic passion which fueled a revolution. And we all know how that ended!

Rather than snuffing out claims, these preemptive lawsuit strikes may well become the bugle call to action by business owner insureds.
For Consultation Contact:
info@ByrdCampbell.com