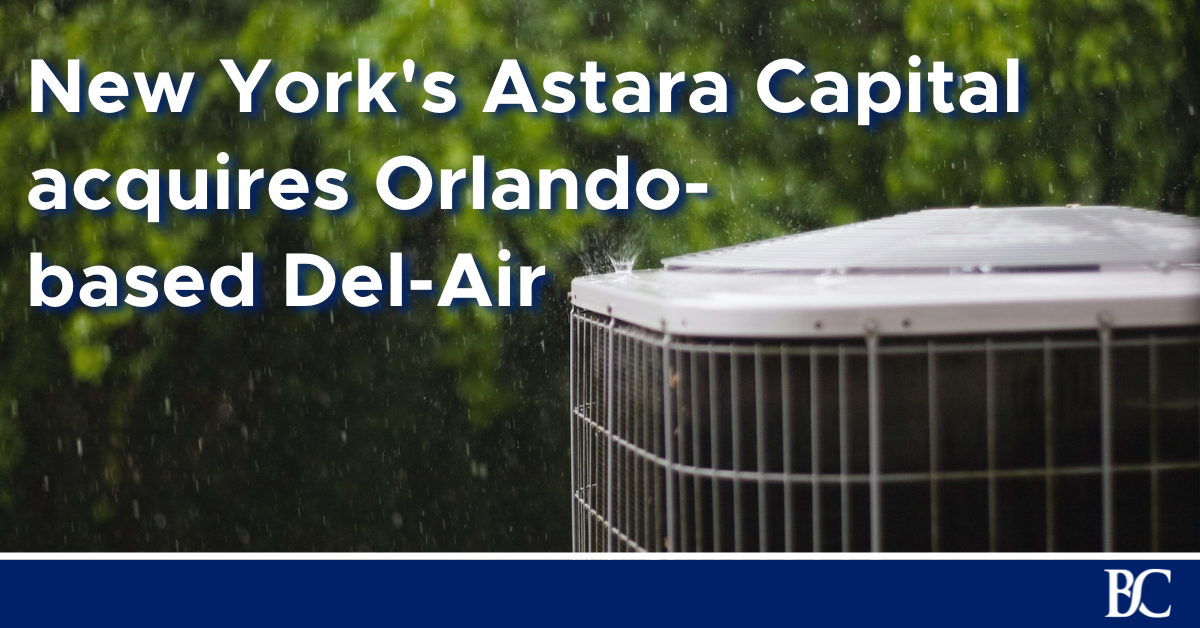 Sanford-based Del-Air Heating & Air Conditioning has been sold, Orlando Business Journal has learned.
The well-known local company, which dates back to 1983 and has grown to more than 600 employees, was bought by New York-based Astara Capital Partners. The acquisition closed Nov. 2.
Chad Barton, an investor and operator with Astara Capital Partners, confirmed the sale to OBJ.
Barton declined to disclose the sales price, citing company practice, and instead noted that Del-Air has $140 million in top-line revenue.
Winter Park law firm Byrd Campbell PA and Charlotte-based firm Robinson Bradshaw assisted in the closing, Barton said.
Richard Fortin, chairman of the Del-Air board before the deal, told OBJ the new ownership represents a great opportunity for the employees and the firm's legacy. Astara Capital Partners has "put in a great leadership team" and is "putting in resources and capital that I think are unprecedented in this industry."
A letter sent to Del-Air clients ahead of the closing notes the prior ownership said, "With this strategic investment, Del-Air will be debt-free and have cash and other sources of liquidity to fund critical investments."
Barton was formerly the founder and chairman of American Builders Supply and said he came to know Bob Dello Russo, the founder and former CEO of Del-Air, through that role.
Following Dello Russo's death in 2021, Barton joined the company's board to help steer the firm, and in the spring of 2022, Astara Capital began due diligence on the possibility of acquiring Del-Air.
"Sometimes companies need new life, new capital," Barton said. "We looked at this deal hard and Del-Air obviously has a great name in town. We made the decision in New York to go ahead with the purchase."
Barton said Astara Capital's plans include growing the company "exponentially" and investing into its employee base and resources. He said the acquisition was made debt-free and the firm has "a lot of capital at their fingertips" as they look to modernize operations.
Rick Rogers, formerly COO of Service Experts Heating & Air Conditioning in Plano, Texas, has been brought on as Del-Air's new CEO.
He's joined by new leadership additions including new COO Faizzy Saghir, Greg Faris as vice president of residential reconstruction business development and Nicole Lemieux as chief human resources officer.
Rogers told OBJ the new leadership team brings more than 100 years of experience.
"We want to continue to expand the new construction side of the business, as well as to grow the home services part of the business," Rogers said, noting that the business is currently about 60% new construction and 40% home services, and that ideally those would be an even split.
Rogers additionally said he anticipates Del-Air will hire about 75-80 new employees in 2023 and invest in the firm's IT and operating systems. "It'll be a big win for employees — they've been asking for this technology for quite some time."
Barton also said Astara Capital Partners is pursuing more acquisitions, including of companies in Florida and the Orlando region. "We're looking at several other deals."
Meanwhile, mergers-and-acquisitions activity has ramped up this year. The global disruption triggered by the Covid-19 pandemic led many companies to review portfolios and reassess strategies, per a mid-year update on global M&A industry trends by New York-based PricewaterhouseCoopers (PwC).
That led to many strategic acquisitions and divestitures as companies redirected money and resources into business divisions and activities with the highest growth potential and where they have a distinctive competitive advantage, the report said.
Original Article: New York's Astara Capital acquires Orlando-based Del-Air
Credit: Steven Ryzewski, Orlando Business Journal